Meterix
MX 355
Compact TRMS 400 A AC / DC clamp multimeter
Equipped with the essential functions (AC and DC voltage, AC and DC current, resistance and continuity), the MX 355 clamp multimeter offers excellent handling. The versatile MX 355 clamp is the ideal companion for electricians working on the switchboard of a home or checking the power supply of a battery-powered system.
Specifications:
• 6,000-count display
• Acquisition: True Root Mean Square (TRMS)
• Clamping diameter: 30mm
• AC current: 60.00 A / 400.0A
• DC current: 60.00 A / 400.0 A
• AC voltage: 60.00 V / 600.0 V
• DC voltage: 60.0.0 V / 600.0 V
• Resistance: 600.0 Ω
• Audible continuity test, diode test
• Functions: HOLD (freezes the display), Peak (peak value)
• Automatic ZERODC/Relative measurement.
• Safety: IEC/EN 61010 CAT III 600V
C.A 5273
The C.A 5273 is a comprehensive multimeter for electrical maintenance of installations and small AC and DC machines, with a double 6,000-count backlit display and a 61+2-segment bargraph with remanent effect.
Its 600V CAT IV safety is backed by IP54 ingress protection.
Designed and manufactured in France by CHAUVIN ARNOUX, thismultimeter comes with a 3-year warranty.
CAT IV 600V / CAT III 1,000V
TRMS measurements
Bi-mode double 6,000-count backlit display and 61+2-segment bargraph (full scale / central zero)
Auto AC/DC selection
Automatic or manual range selection
VLowZ low-impedance voltage measurement with low-pass filter
1,000 V
10 A
Resistance / audible continuity
Temperature
Capacitance
Max / Min storage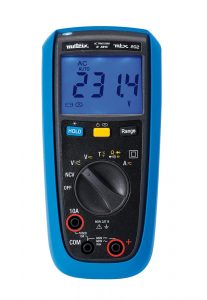 MTX 202
TRMS AC or AC + DC current and voltage measurements with all the ranges in automatic mode for greater simplicity
Min, Max, ΔREL, HOLD and NCV functions
Convenient: backlit screen and built-in torch
Practical: a large display and a multi-purpose magnetized shockproof sheath
Technical specifications :
Display : 4,000 counts
AC/DC voltage : De 0,4 V to 600 V
AC/DC current : De 0,02 A to 10 A
Resistance : de 1 Ω to 40 MΩ
Capacitance : de 1 nF to 100 mF
Temperature with K thermocouple (°C / °F) : from -55 °C to +1 200 °C
Dimensions / weight: 170 x 80 x 50 mm / 320 g
PEL106 POWER ENERGY LOGGER
IP67 all-terrain casing resistant to shock, UV light and high temperatures
• Communication via Wifi, 3G-UMTS/GPRS, LAN (Ethernet), Bluetooth and USB
• Self-powered via its voltage inputs up to 1,000 V
• Continuous recording with an interval of 200 ms between measurements
• Measurements as per the IEEE 1459 standard
• 4 voltage inputs & 4 current inputs
• Ideal for installation on electricity poles